Intown Ace Hardware Selected as Finalist in National Competition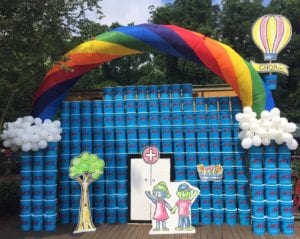 https://woobox.com/z98mvh?fbclid=IwAR3b90sDFW41BjYduydiwFBsVQNYRYnY8LqJfJdL32ue07oGhm1MH7_I7tQ
When it comes to being a Children's Miracle Network Partner-creativity is key! Just ask the helpful folks at Intown Ace Hardware in Decatur, GA. For the third consecutive year, Intown Ace has been selected as a Top 10 finalist in the Ace Hardware Miracle Bucket Display Competition. All across the nation, Ace Hardware teams design and build wow-worthy store displays made out of their signature buckets. The displays are constructed to be anything from a pot of gold to windmills, whatever it takes to attract a lot of attention!
This year, Intown Ace Hardware has out done themselves once again. The Decatur team built their very own Children's Healthcare of Atlanta "hospital," complete with Children's beloved mascots, Hope and Will, right outside the front doors! As a finalist, Intwon is in the running to receive a donation to Children's Healthcare of Atlanta in their name. Children's is lucky to have such enthusiastic partners that always go above and beyond!
Be sure to click the link above and vote for Intown before August 20th, 11:59 CST.